Los Alamos, 3 Bedroom Villa.
Near Playa Las Vistas Beach
Los Alamos Complex, Tenerife
The Residencial Los Alamos Comlex is in Los Cristianos and a short Walk (5 Mins) to the Famous Playa Las Vistas Beach. It is Front Line ofthe Complex and the Parking is in from of the Complex. The Complex also has a Fresh Water Pool with much room for Sunbeds. There is Showers by the Pool and is only a 1 Min Walk from the Villa.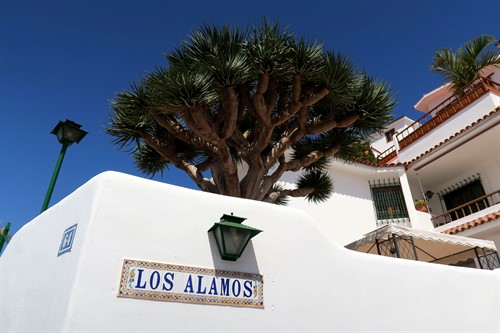 Between the sun and the sea ...
It is ideally situated as it is on the sea front and a short distance into Los Cristianos Town Centre and a 5 minute walk from the delightful shopping centres of Playa de Las Americas. Everything is at hand, Restaurants, Bars, Supermarkets and most importantly the beautiful Las Vistas Beach. Apart from its ideal location, if you want to lounge around the complex you have swimming pool. The sea front promenade is at a 5 minute walk from Complex. If you are looking for a self catering holiday, near to the beach, Los Alamos is a great choice.