El Cardon, 1 Bedroom Apt (Ref: 105)
105
Description
These Apartments have a separate bedroom with 2 single beds (90x190). In the American kitchen you can find all the necessary utensils like: a ceramic hob, extractor hood, washing machine, microwave, toaster, coffee maker, kettle and a fridge freezer to prepare a nice meal. A dining table is in the living area and a breakfast bar belongs to the kitchen but if you prefer you can either have your meal outside on the furnished balcony with pool view. The balcony doors allow enough light into the apartment so that it is bright and comfortable. The bathroom is equipped with a shower. There is a pull out sofa and a flat screen TV/DVD in the living area. (Sorry No English TV Channels, No Complex Wi-Fi) All these Apartments Photos are a Guide, All these Apartments Photos are a Guide but all these Apartments are basically all the same, When you Book these Apartments, we will need to CONFIRM FIRST so please just fill your details via the Enquiry Button and we will get back to you. (Like when you go into a Hotel, the Apartment number are allocated to you the this Complex on arrival, so to can keep Lost Days between Bookings to a Minimum.). (You can of Course request, Low, High Apartment etc)
These Apartment have a separate bedroom with 2 single beds (90x190). In the American kitchen you can find all the necessary utensils like: a ceramic hob, extractor hood, washing machine, microwave, toaster, coffee maker, kettle and a fridge freezer to prepare a nice meal. A dining table is in the living area and a breakfast bar belongs to the kitchen but if you prefer you can either have your meal outside on the furnished balcony with pool view. The balcony doors allow enough light into the apartment so that it is bright and comfortable. The bathroom is equipped with a shower. There is a pull out sofa and a flat screen TV in the living area.
Bed linen and towels at your disposal
Heated pool
Top Location, 5 minutes from the beach
Furnished balcony
Washing machine
Safe
Supermarket in the complex
Pool bar
All these Apartments Photos are a Guide but all these Apartments are basically all the same, When you Book these Apartments, we will need to Confirm so please just fill your details via the Enquiry Button and we will get back to you. (Like when you go into a Hotel, the Apartment number are allocated to you the this Complex on arrival, so to can keep Lost Days between Bookings to a Minimum.). (You can of Course request, Low, High Apartment etc) There are 2 Price Seasons with these Apartments. Low Season Between the 1st April to 28th Oct. High Season is the 29th Oct to 31st March.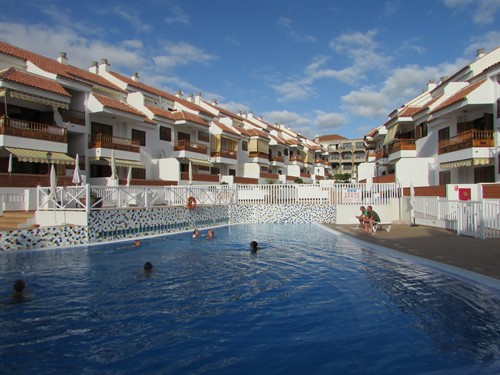 Read more about El Cardon, 1 Bedroom Apt (Ref: 105)
Hide
Amenities
Property Type

1 Bedroom Apt.

Bedrooms

1

Bathrooms

1

Party Size

1

3

2

3 (2+1)

Floor level

Ground

Amenities

Pool View

Safe

Washing Machine

DVD Player

Swimming Pool

Communal

Childs Pool

Main Pool

Heated

Distances

Walking Distance to Beach

Walking Distance to Supermarket

Short Drive to Las Americas Golf Course

Walking Distance to Bars/Restaurants

Walking Distance to Centre Las Americas

15 min Drive to Airport

Suitability

Children Welcome

Nearest Airport

Tenerife South

Activities

Beach

Watersports

Town Centre

Diving Snorkelling

Zoo

Cycling

Places of Interest

Golf

Waterpark

Surfing

Complex Facilities

Fresh Water Pool

Supermarket

Bar

Heated Pool

Resturant
Pricing
| From | To | Week (£) | Occupation |
| --- | --- | --- | --- |
| 29 Oct 2021 | 31 Mar 2022 | 495 | |
| 01 Apr 2022 | 28 Oct 2022 | 375 | |
| 29 Oct 2022 | 31 Mar 2023 | 495 | |
Rental & Booking Information
Availability
Booked
Provisional
Available
Recently Viewed