Torres Del Sol, 1 Bedroom Apartment (Ref 28) - 28
This 1 Bedroom Apartment is situated on the 4th Floor and from the balcony you can enjoy the sea views or the mountain views. It also looks over the pool area. It comprises of a new kitchen with a 4 ring hob and oven and microwave, A bathroom with a large walk in shower as well as a safe non slip shower. The bedroom has Twin Beds.
The lounge win Air Conditioning has double-glazed Patio Doors & Sofa Bed, TV & DVD Only. (Spanish Freeview TV with some English Speacking Channels) Washing Machine.
* 1 Bedroom, 1 Bathroom. (This Apartment has a Pool, Sea and Beach Views)
* 4x Communal Pools (2x Main & 2x Childrens).
* Coastal setting, 1 mins walk to Beach.
* 15 mins Drive from Airport. * 1 mins walk to Shops. * 1 mins walk to Nearest Restaurant.
* Car Hire is not required.
To See the Price or/and Book this Apartment, Please go to the Top right Hand side of this Page and input your Dates, Persons and this will bring up the ''Price'' If you are happy with this Booking and wish to proceed then Click on ''BOOK'' and follow the Booking Page.
Click here for Printable Version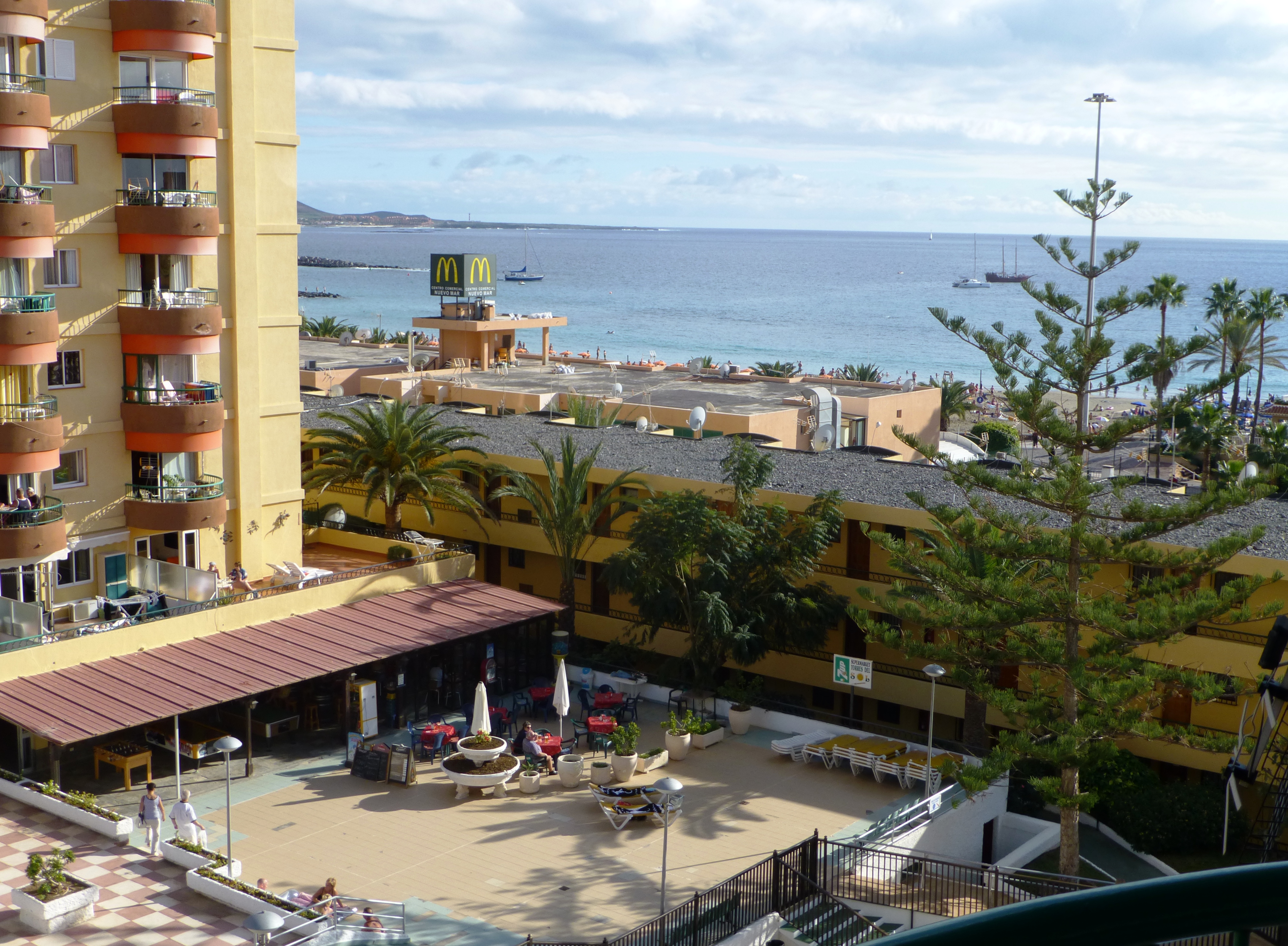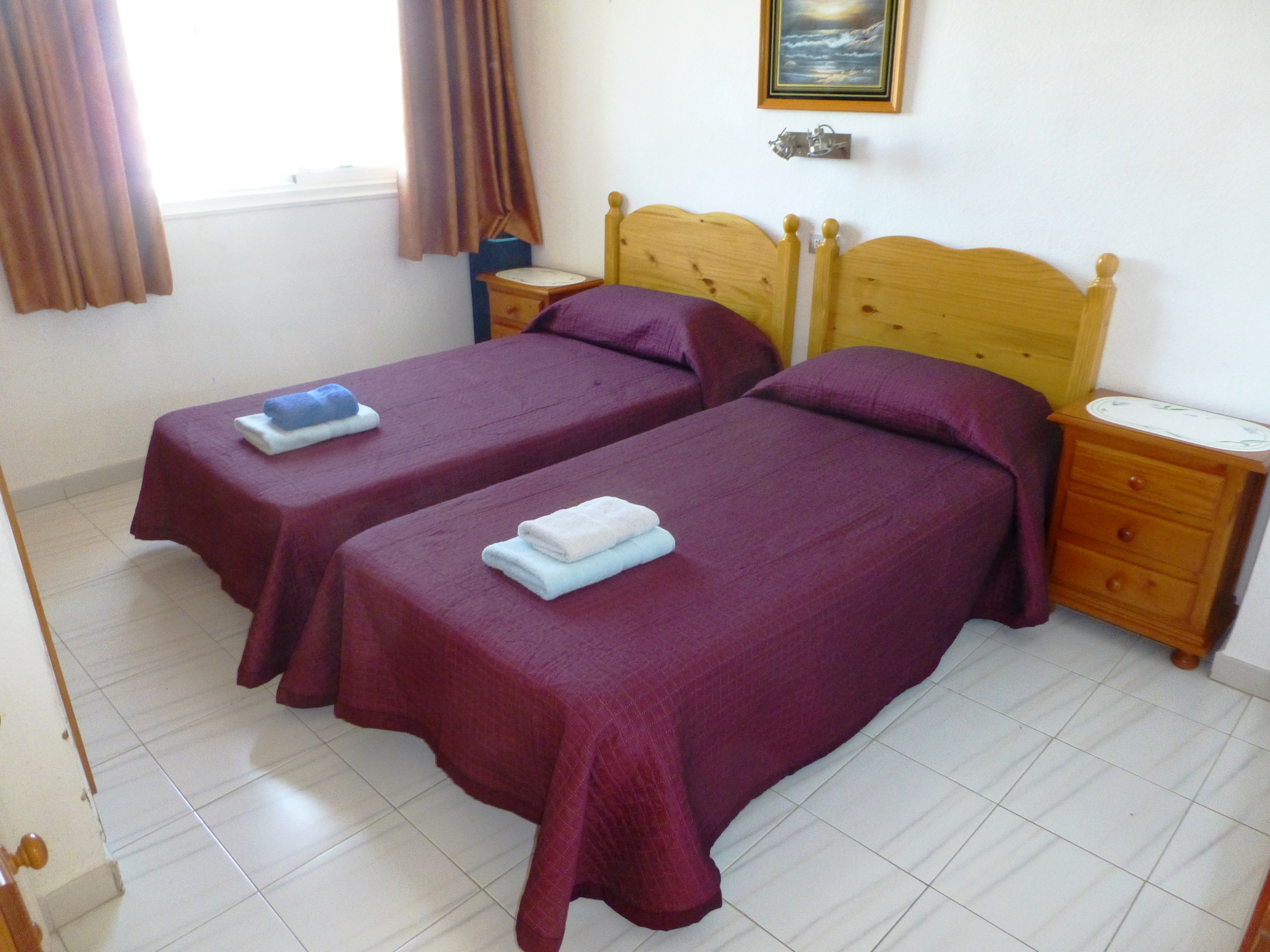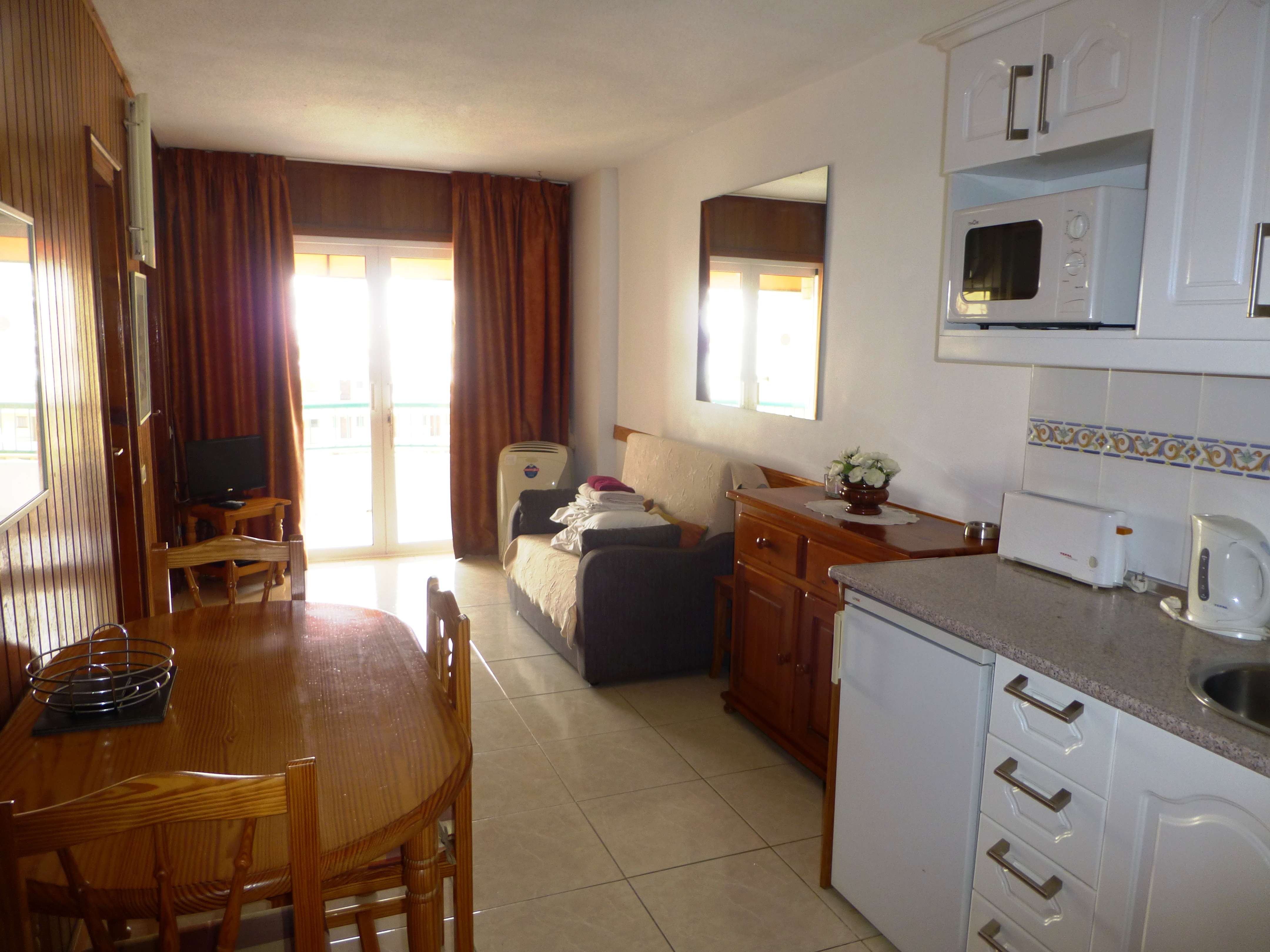 | From | To | Week (£) | Occupation |
| --- | --- | --- | --- |
| 03 Jan 2018 | 23 Dec 2018 | 295 | |
| 24 Dec 2018 | 01 Jan 2019 | 425 | |
| 02 Jan 2019 | 24 Dec 2019 | 310 | |
| 25 Dec 2019 | 01 Jan 2020 | 450 | |
| 02 Jan 2020 | 24 Dec 2020 | 325 | |
| 25 Dec 2020 | 01 Jan 2021 | 460 | |
Have stayed here on numerous occasions and will stay again although the complex is old it is spotless the location is perfect 2 minutes walk from beach shops bars etc.great bar on site with lovely staff .everything reasonably priced little supermarket on site.5 minutes walk to a bigger and cheaper one.all in all this is probably the most convenient apartment...
julieJan 2017
We stayed in an apartment as my husband needs a wheelchair. We found it ideal, the apartment was spotless and although the hotel is a bit old it looks as if a lot of the rooms are being updated. All the lifts have been replaced so you should have no problems with getting to the top floor. The TDS is brilliant for location, a few yard to the beach and a level walk into Los Cristianos or Las Americas. There is also a supermarket close by to supply you with all your holiday essentails. The bar is run by a British family and each time we used it they were very welcoming and although we only had a few breakfasts in the bar it was freshly cooked and very nice. The only downside was perhaps the entertainment, Karaoke everynight but it wasn't too bad as most nights you would be out enjoying yourself. All in all a nice enough hotel with is basic, clean and most of all central to everywhere.
PattersonNov 2015
Firstly we booked our apartment privately, is very well equipped , with a lovely helpful booking agent in Paul, the complex had a reception, with very grumpy staff, not a good first impression to anyone cheerfully arriving on holiday, a very weird set up, at least the cleaners (John and Hazel) seemed to like there job!! Very smiley and cheerful, the complex as we knew is old but clean, with two towers, but have amazing views, the customers made us feel very young, everyone looked over 70, the pub was nice with lovely owners, who were worked very hard with food, we ate breakfast it was very nice and at a good price, it also had live music most night at 10.45 but when you go back to the apartment you can hardly hear it , The TDS has two new big pools, which were very clean, but you sometimes have to pay for a sunbed, but that saved the beds being reserved, by other people.
goodmanSep 2016