Torres Del Sol, Studio Apartment, Ref: 26 - 26
This NEWLY REFITTED Ground Floor Studio in Block C2, South Facing Balcony, very sunny Balcony and views of the New Outside Pool and view towards the Sea Front. The Studio is for 1 to 4 Persons (2+2) 2 adults + 2 children.
The Studio Apartment's offer superb value for money for a Self Catering Sea Front Apartment.
This Studio has Twin Beds and a Large Double Sofabed, Ceiling Fan, & Spanish Digital TV/DVD (Some English Speaking Channels), Patio leading to the Balcony,
Bathroom with Walk in Shower, Basin and Toilet,
Kitchen has a Hob, Oven, Toaster, Iron, ironing board, Microwave, Kettle and a Washing Machine.
Table & 2 Chairs. clothes horse, Safe, etc etc.
No Lift or Steps. Ramps all around the Complex so great for Wheelchairs and Hard of Walking.
To See the Price or/and Book this Apartment, Please go to the Top right Hand side of this Page and input your Dates, Persons and this will bring up the ''Price'' If you are happy with this Booking and wish to proceed then Click on ''BOOK'' and follow the Booking Page.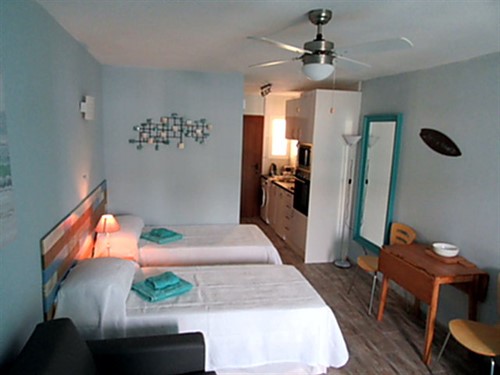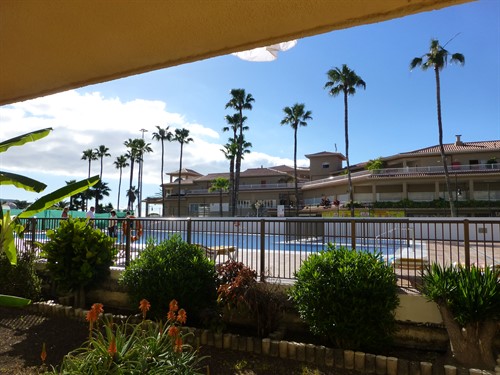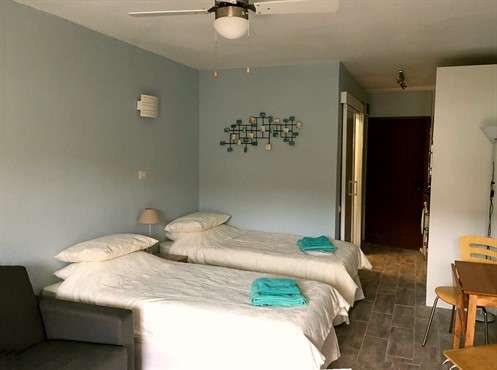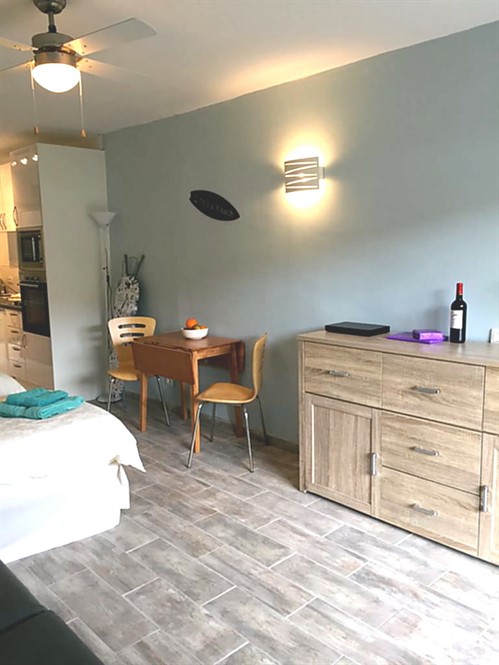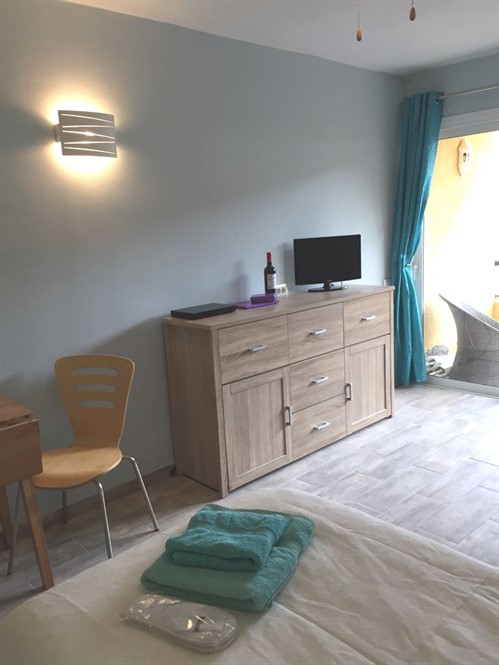 | From | To | Week (£) | Occupation |
| --- | --- | --- | --- |
| 03 Jan 2018 | 24 Dec 2018 | 300 | |
| 25 Dec 2018 | 01 Jan 2019 | 900 | 14 |
| 02 Jan 2019 | 31 Mar 2019 | 300 | |
| 01 Apr 2019 | 24 Dec 2019 | 300 | |
| 25 Dec 2019 | 01 Jan 2020 | 900 | 14 |
| 02 Jan 2020 | 31 Mar 2020 | 300 | |
| 01 Apr 2020 | 24 Dec 2020 | 300 | |
| 25 Dec 2020 | 01 Jan 2021 | 900 | 14 |
| 02 Jan 2021 | 31 Mar 2021 | 300 | |
| 01 Apr 2021 | 24 Dec 2021 | 300 | |
What a lovely Studio Apartment
We stayed at the Torres Del Sol Apartment Complex at the beginning of August for two weeks. I must admit on arrival I was a little put off by the look of the blocks but how wrong I was. Our apartment was not in one of the towers but in one of the surrounding blocks, it was clean and tidy and had everything we needed for our holiday and a safe. It had a small south facing balcony and this was beautiful on an evening for a drink before going for our evening meal. We found the pool area very clean and peaceful and there was only 1 day out of the holiday that we couldn't get a bed. The complex has a lovely bar on it with the most wonderful staff, Dave, Jayne and Scouse Clare. They were the nicest people you could ever wish to meet. They would do anything to help you and gave us loads of local information and restaurant tips . They do beautiful breakfasts (we had one most mornings) and various snacks, food and cocktails all at very very good prices. They also have singers on an evening and the one's we saw were excellent. The complex is in the best place ever, close to everything you could require. Two minute walk to the promenade and lovely beach (Las Vistas), about a six minute walk to the Safari Center and probably five minute walk to a very cheap supermarket. It was up a hill but was worth the hill for the savings to be had. I know that the apartments are all privately owned so each one will be different but if you get a nice one it really is worth giving this little complex a go. Can't wait to go back soon!
JaneSep 2017
Management comment
Thank you Jane for you lovely comments.
Just returned from an 11 night stay at the Torres Del Sol. The position of these apartments is just perfect, literally a 3 minute walk to the fabulous Las Vistas Beach, where all bars, restaurants and entertainment can also be found. We stayed in a studio overlooking the main pool which had the sun all day. The studio was spotlessly clean and very well equipped together with cooking facilities, fridge/freezer, microwave, toaster etc. The bar on site is cheap and the owners friendly. Linen/towels were changed half way through our stay which was more than adequate. All in all a wonderful holiday due to this complex's prime location and wont hesitate to be returning in the future.
HandeySep 2016
Ideal for couples looking to be fine without a car. The place is ideal for a sun, beach in a very nice atmosphere. The apartment was fine, perfect, very friendly and great agents. The Apartment was had the sun on the balcony all day but we we by the pool. The Studio looked right out at the pool so we could go back for lurch at mid day and leave our bits on the sunbeds. :) The resort is in the best tourist area of the island, between Cristianos and Playa de Las Americas. 15 minutes from the airport and very close to a large supermarket. There are plenty of bars, restaurants and pubs.
crushMar 2016
We went to the Torres del Sol just to get away from the rain and snow, I had never been to the Torres before, I was told by Paul of Spanishisles.com that the complex was basic but was in a super location for the beach, resturants and bars, Los Cristainos and Las Americas was a short walk from the complex. Paul was not wrong, the apartment was basic but very clean, the complex had a new pool and a complete new lift system. The view from our room was great. I will be booking again. Thank you Paul for all your Help. Jill & Tony.
LawsonMay 2016
Have stayed here on numerous occasions and will stay again although the complex is old it is spotless the location is perfect 2 minutes walk from beach shops bars etc. great bar on site with lovely staff .everything reasonably priced little supermarket on site.5 minutes walk to a bigger and cheaper one.all in all this is probably the most convenient apartment complex in Los Christanos
BaileyJan 2017
Stayed here for my birthday at the end of January and booked a private apartment wit Spanish Isles Holidays The apartment is abit dated and basic but was south facing and we thoroughly enjoyed our stay,this was mainly due to the fab location (virtually on beach and close to bars etc) and the on site bar ran by Jayne and Dave. They were great hosts,had entertainment most nights and we were made to feel very welcome. Already looking forward to our next visit
Mrs JeffreysJan 2017