Compostela Beach, 2 Bedroom Apt (Ref 6) - 6
This beautiful 2 Bedroom Apartment in the Compostela Beach Complex, Sleep up to upto 5 Persons, (4 + 1 Pers) It has 2 Bedrooms with Floor to Ceiling Cupboards & Ceiling Fans, bedroom 1 has a door leading to a Balcony, The Lounge Diner has a Flat Screen TV with (English Speaking Channels Etc) & DVD. Lounge also has a Double Sofa, Dining Table and 4 chairs and doors which leads out to a Double Balcony. This large Double Balcony has a Sea View and a Full View of the Pool and has the Sun on it for most of the Day and has New Blinds. This 2 Bedroom Apartment has a modern kitchenette with all necessary requirements, i.e. iron, refrigerator, cooker, microwave etc & a Washing Machine.
The Apartment has FREE Wi-Fi (For Emails/ Facebook etc) (Streaming).
To See the Price or/and Book this Apartment, Please go to the Top right Hand side of this Page and input your Dates, Persons and this will bring up the ''Price'' If you are happy with this Booking and wish to proceed then Click on ''BOOK'' and follow the Booking Page.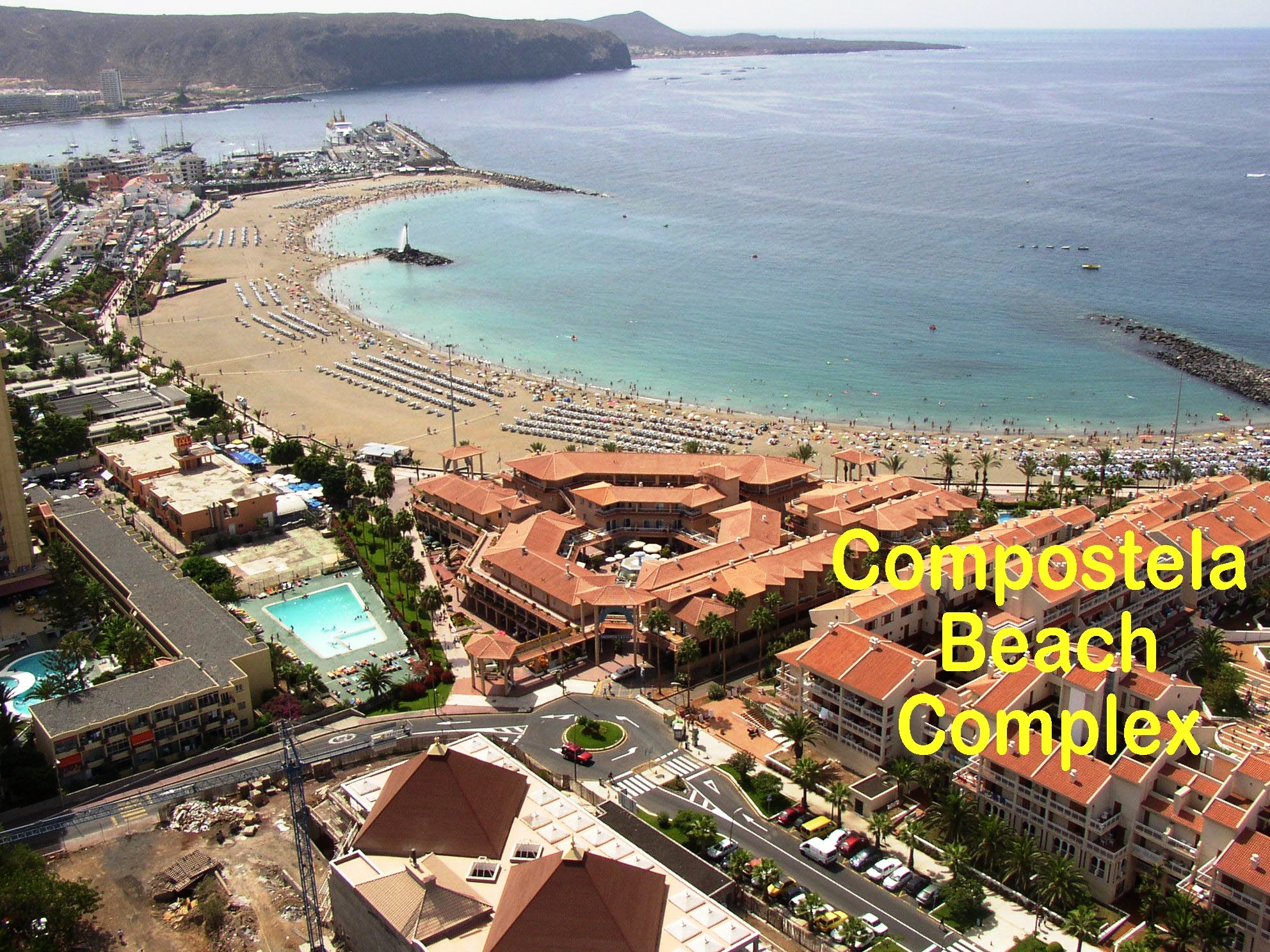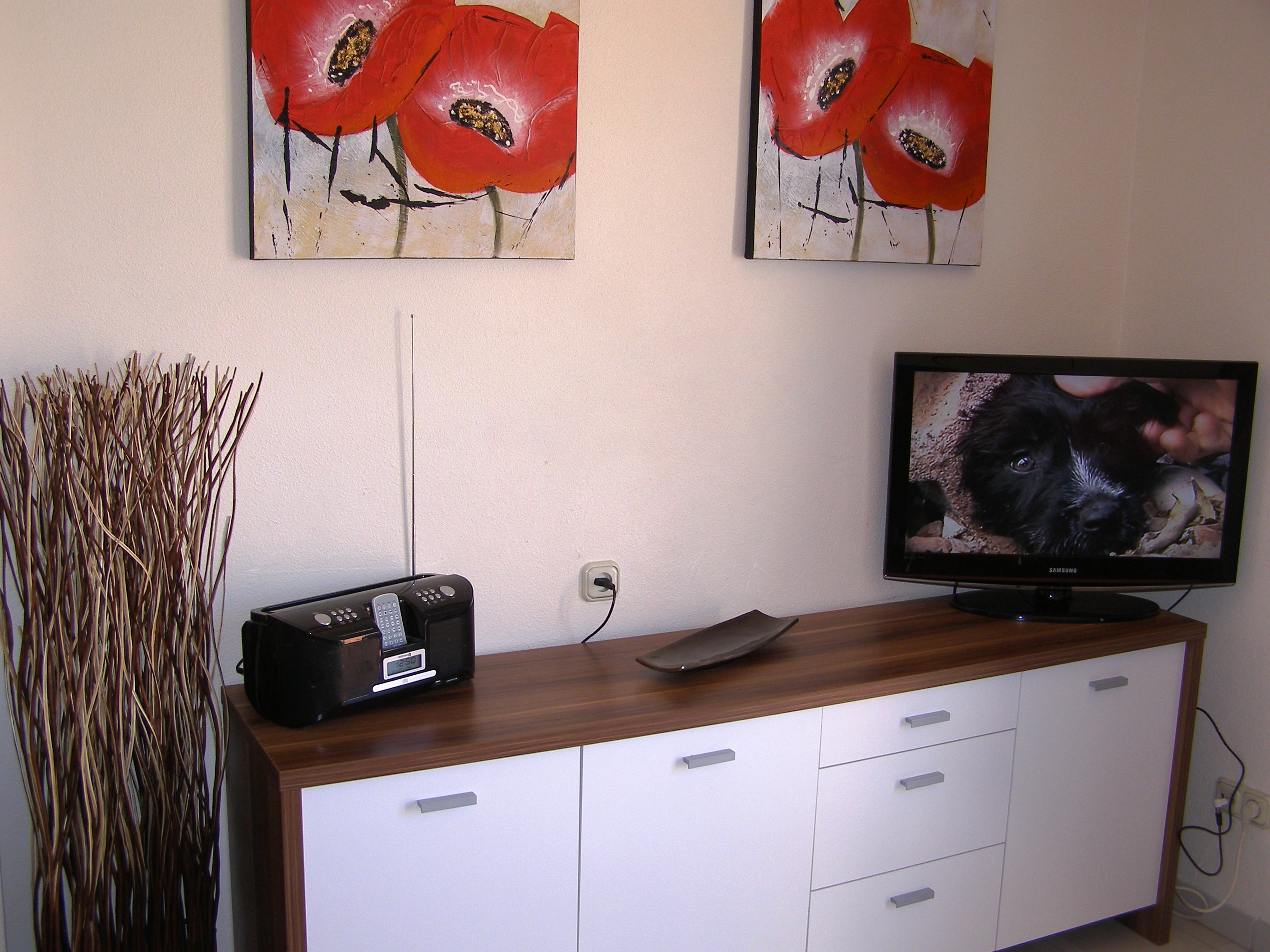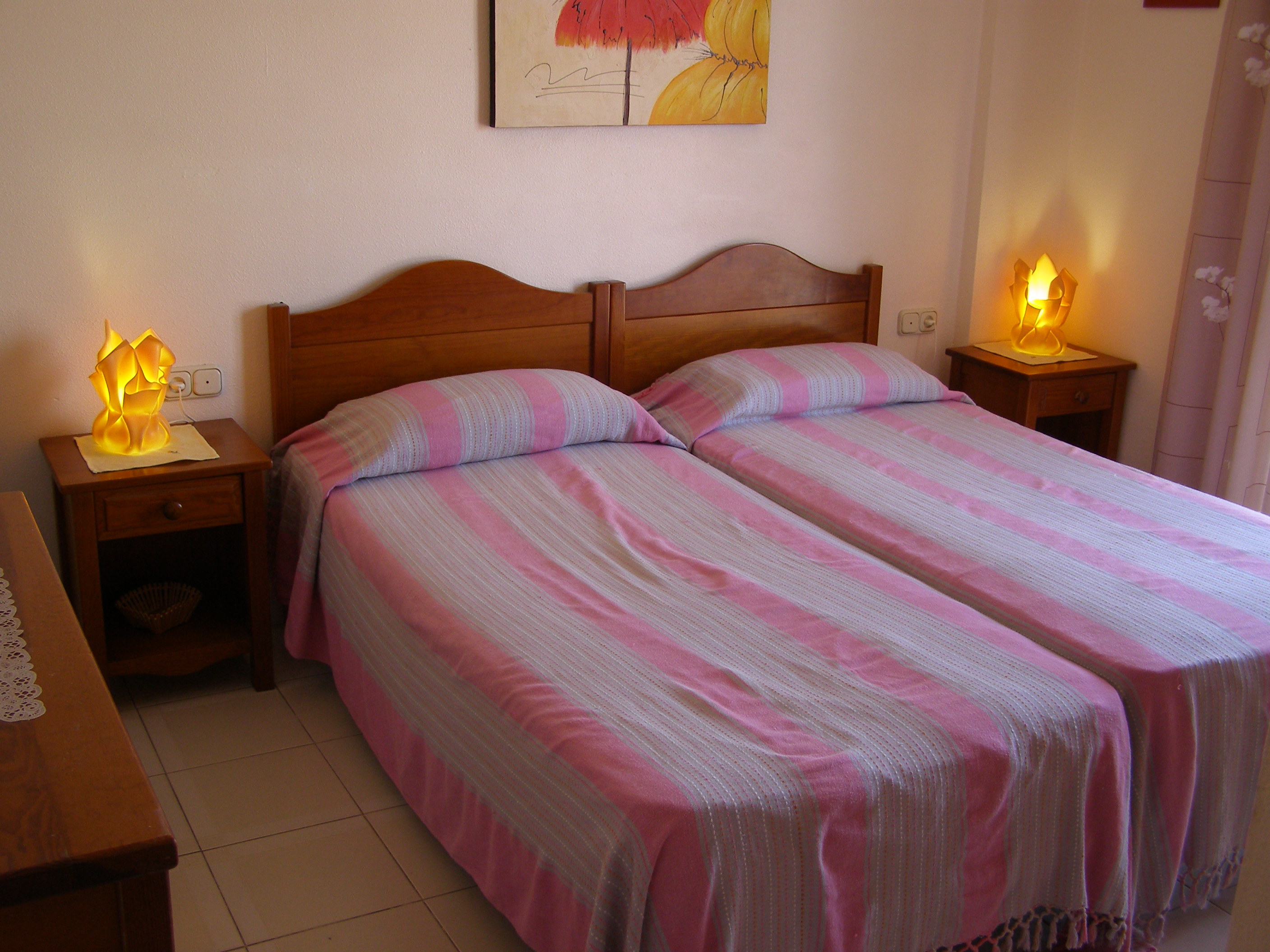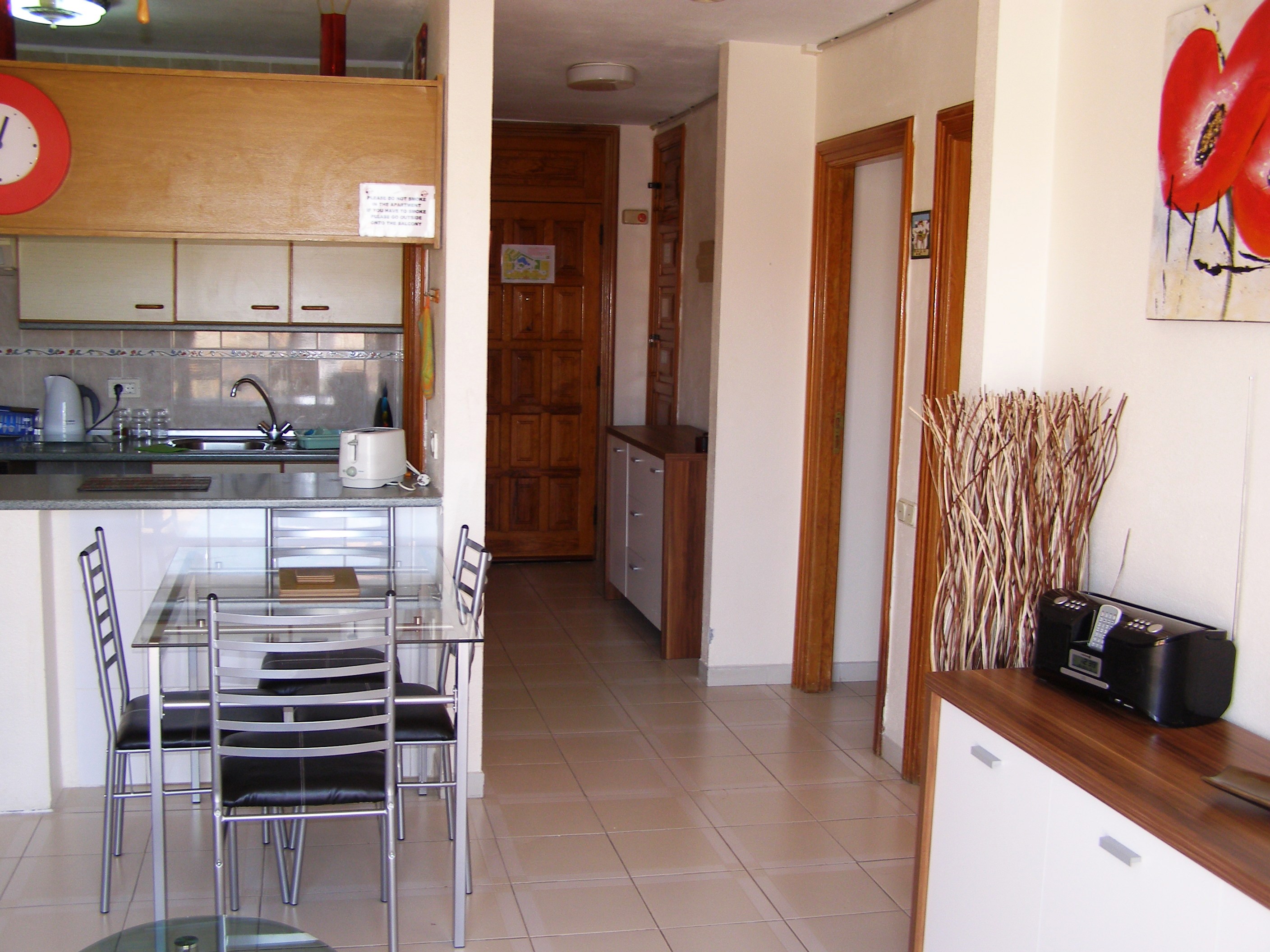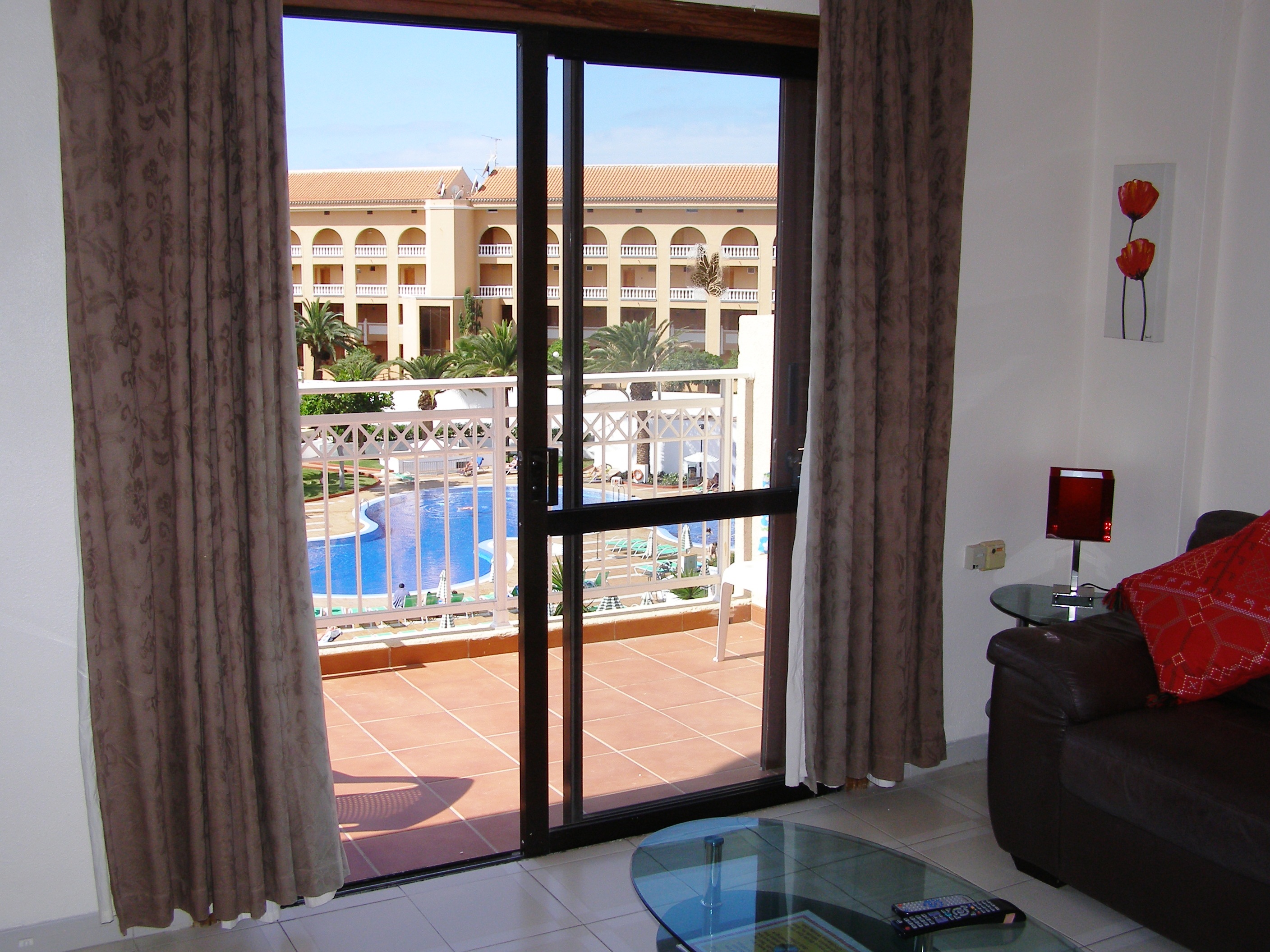 | From | To | Week (£) | Day (£) | Occupation |
| --- | --- | --- | --- | --- |
| 03 Jan 2018 | 19 Dec 2018 | 595 | | |
| 20 Dec 2018 | 02 Jan 2019 | 800 | | |
| 03 Jan 2019 | 18 Apr 2019 | 600 | | |
| 19 Apr 2019 | 26 Apr 2019 | 700 | | |
| 27 Apr 2019 | 24 Dec 2019 | 600 | 600 | |
| 25 Dec 2019 | 01 Jan 2020 | 800 | | |
| 02 Jan 2020 | 24 Dec 2020 | 600 | | |
Lovely complex. Brilliant location. Our balcony looked directly onto pool. 5 minute if that walk to beach. Bars all around. Entertainment there was none at hotel nearby around the corner there was plenty! Would definitely stay again - in fact looking to book another holiday for this apartment again now.
jacksonOct 2016
The apartment is clean and tidy but don't have air conditioning, but I decided it was cooler to sleep in the living room space. Ceiling fans really helped, You still get all your plates, cutlery, glasses etc, plus a cooker and fridge. The agent (John & Hazel) came around to change sheets and towels. Plenty of sunbeds if you get up before 10am, but if you needed an umbrella you might need to get down there a bit earlier. The pool was lovely and clean and great to jump into after you had built up a sweat in the sun! There were quite a few families there and young people, but we were only disturbed on a couple of nights. There is a bar and shop where you can buy your cocktails or a nice cool icecream. You get given a card to enter the complex on one of the side gates, and the beach is about a 2 minute walk so the complex is ideally situated. There are a couple of lovely bars with English food just outside the complex, The Rovers Return and the Live Sports Bar were the ones we used and the staff were very friendly and the views of the beach were great as you were eating your tea! I would definately go back again, but BEWARE, do not go on the boat trips if you suffer from the slightest motion sickness, a 2 hour trip to see the dolphins and whales, turned into the worst 2 hours of my life (put it this way, I saw my cornflakes over the side of the boat the second time around!!! lol)"
ShawAug 2016
"I booked my trip with Spanish Isles Holidays and was very happy with our Apt.The whole complex is great and very close to the beach.My whole family had a great time,Carlos in the bar is good with the kids,the Eagle show was fun and the food was great.As an ex resident of the island finding a complex that fits your expectations is hard but I have found the right one.We will be back next year and are bringing friends......"
Thank YouOct 2013
Firstly, the location of this Complex is excellent. A stones throw away from a variety of different restaurants, bars, designer and local shops as well as the beach and the bus stop for Siam Park (a MUST visit!!!!!!) The Complex itself is bigger than expected from the photos. The pool was both warm and large but as other reviews claim, lilo's are not allowed (although rings and small balls are) and you have to claim your sunbed early (around 8am) in order to secure one (or again around 4ish). There's also a pool and table tennis table as well as kids club just beside the pool. Our room was very clean. The layout was a living room (including a sofa bed) The TV (with English channels) and balcony and a large bedroom with plenty of wardrobe space (including a safe) as well as the toilet/bathroom. I wouldn't recommend staying here all inclusive - not because the food was bad (as we didn't try it) but because there are plenty of restaurants around and at a cheap rate. For example, breakfast was no more than 4 euro including a drink (Buzz Bar). Overall, we had a fantastic time in Tenerife and would definitely go back and stay here again. For a good meal - Corinto (on the beach and also has free wifi), Scampi's (just by the beach) and Buzz Bar (next door to Scampi's). Of course, the Hard Rock Cafe too! (to the left of the hotel) Cheap cigarettes & perfume - past the hard rock cafe on the left on the corner. £16 for 200 Mayfair! Supermarket/shops - cheap supermarket to the left of the hotel and then on the right besides mini golf and on the other side of the road works as you leave the hotel (which is nowhere near as annoying as people put on here) to the right is the cheapest Zara ever (heaven). SIAM PARK!!!! AMAZING DAY OUT!!!!!!!!! And the food there is not too expensive at approx. 25 euro for food and drink maximum.
Mrs ParlySep 2015
Review Compostela Beach, 2 Bedroom Apt (Ref: 6).
Evening, We have just returned from staying in compostela beach Apartments room 53b and just wanted to say how lovely it was. The apartment was great and in good order very comfortable and will definitely look to book again! Lisa.
LisaJul 2015
Review Compostela Beach, 2 Bedroom Apt (Ref: 6).
We arrived at Compostela Beach apartments on the 9th January 2015 and the Key Box idea. This two bedroom apartment which over looked the lovely pool with a good view of the sea. The apartment was very clean and tidy. The apartments have very good facilities and are situated in an excellent location. The front of our apartment faced out onto pool and the Sun was on this most of the Day. The John & Hazel (Our Agents) were always very helpful and we are already looking forward to our next stay at the Compostela Beech.
Mrs FosseJan 2015