Compostela Beach, 4 Bedroom Villa (Ref 12) - 12
Compostela Beach 4 Bedroom Villa (Ref: 12)
We are delighted to present this 4 bedroom family Villa located in the heart of Las Americas and Los Cristianos and right on the famous Playa de Las Vistas Beach.
4 Bedrooms:

All rooms have built in wardrobes.

Master Bedroom: King Size Bed and a sofabed in a Alcove of the Master bedroom - private balcony.

Bedroom 2: 2 Single Beds - private balcony.

Bedroom 3: 1 Single Bed.

Bedroom 4: Kingsize Bed with a en-suite, double sofa bed - private balcony.

Bathrooms:

Bathroom 1: WC, Sink and a Bath.

Bathroom 2: WC, Sink and a Walk-in shower.

Bathroom - En suite 3: WC, twin sinks and double shower.

Living Rooms:
Large airy lounge area comprising of L Shaped sofas, Large 42'' TV and DVD player. The lounge leads onto a dinning room which have a 6 place dining table. Then leads from the living space to sun terrace area then into a paved garden area.

Kitchen:
A fabulous fully fitted kitchen with marble effect work surfaces. Fully fitted to include an oven, hob, fridge-freezer, microwave, washing machine etc.
AMENITIES & FACILITIES:

- The Complex has a Heated Fresh Water Pool (for sole use of complex guests)
- hob/stove
- fridge/freezer
- microwave
- washing machine
- dining area
To See the Price or/and Book this Villa, Please go to the Top right Hand side of this Page and input your Dates, Persons and this will bring up the ''Price'' If you are happy with this Booking and wish to proceed then Click on ''BOOK'' and follow the Booking Page.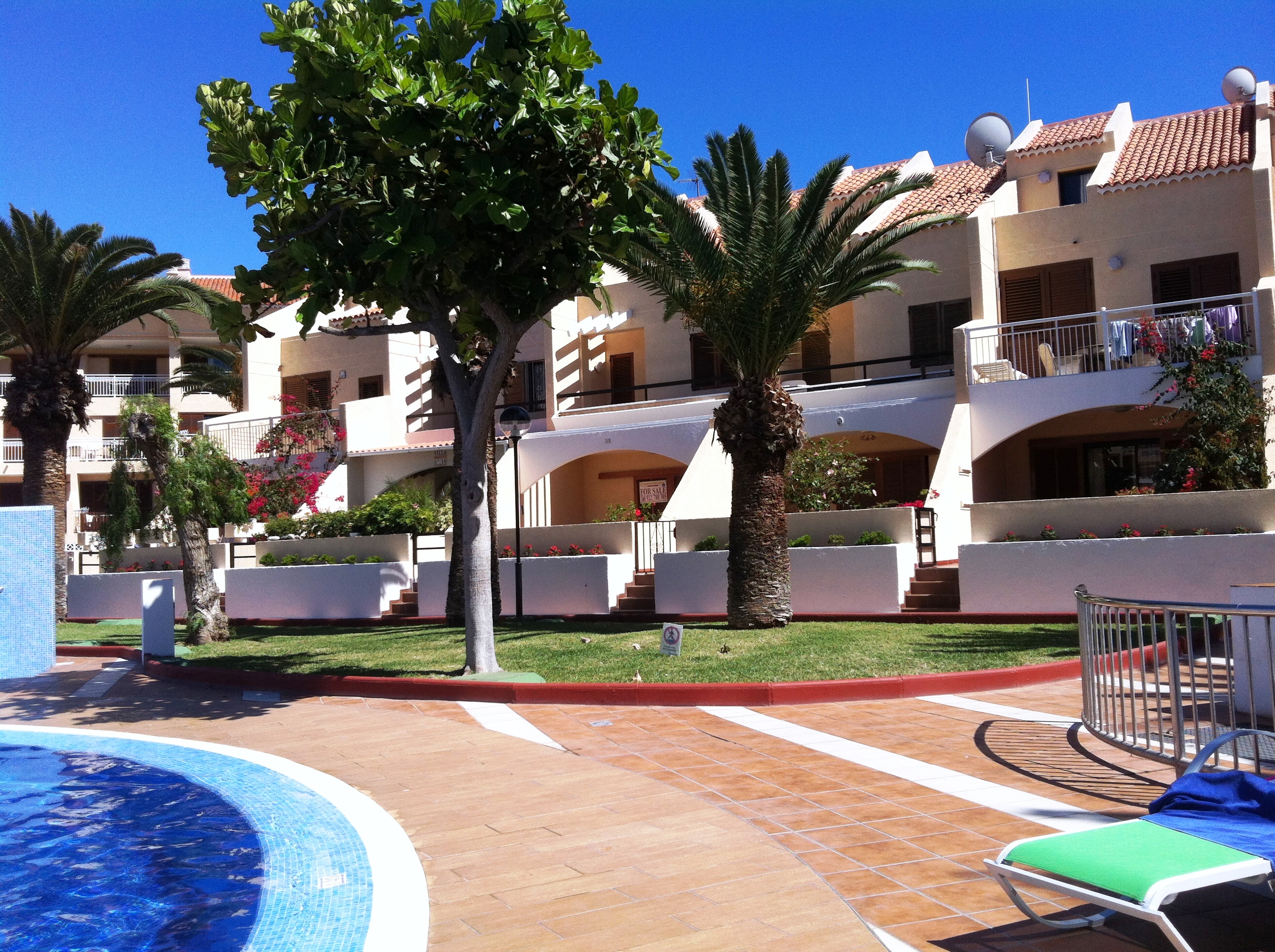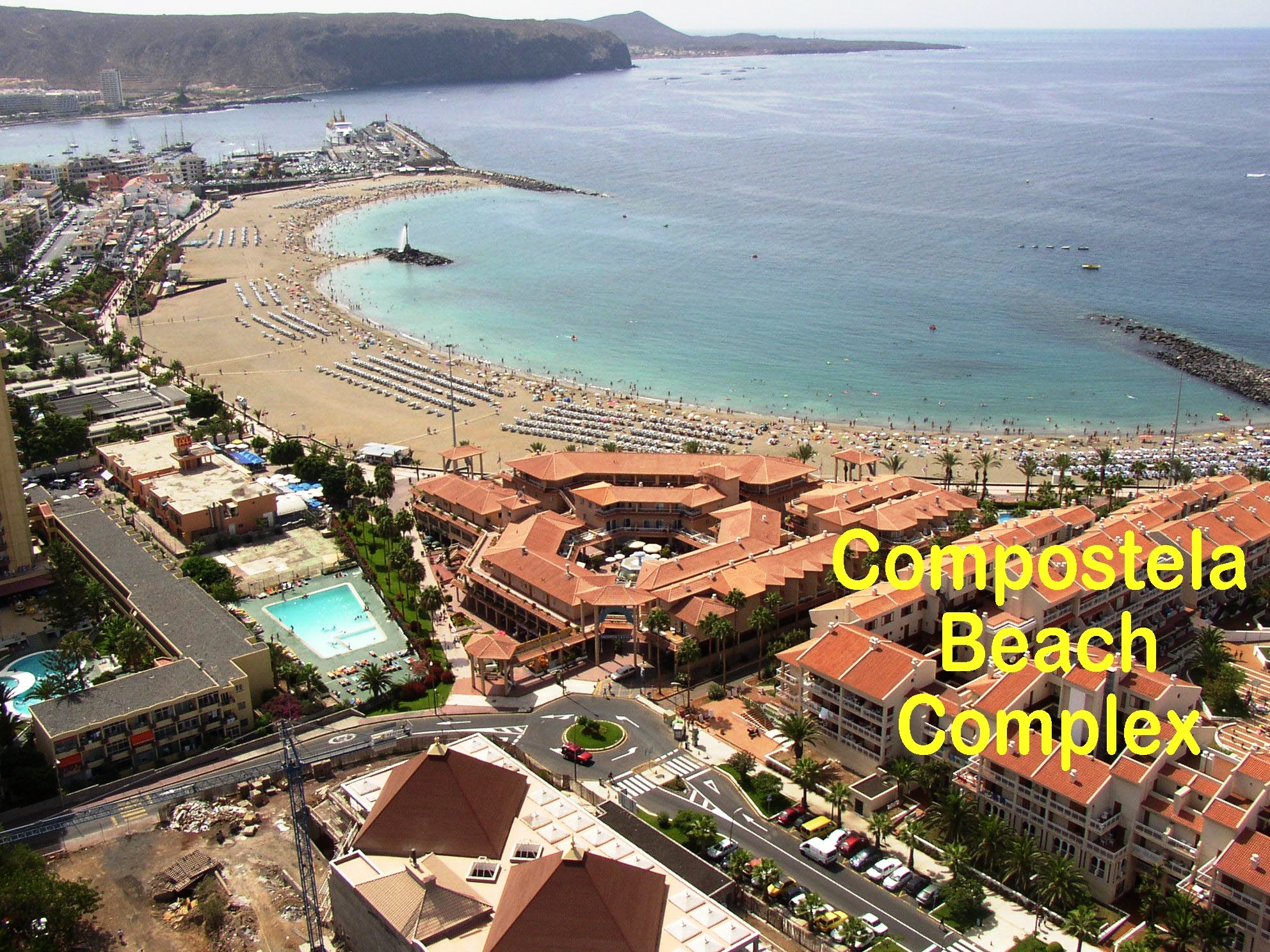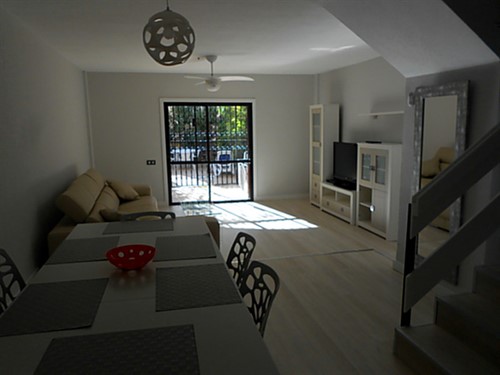 | From | To | Week (£) | Occupation |
| --- | --- | --- | --- |
| 03 Jan 2018 | 23 Dec 2018 | 1,650 | 7 |
| 24 Dec 2018 | 01 Jan 2019 | 2,000 | 7 |
| 02 Jan 2019 | 24 Dec 2019 | 1,650 | 7 |
| 25 Dec 2019 | 01 Jan 2020 | 2,000 | 7 |
| 02 Jan 2020 | 24 Dec 2020 | 1,650 | 7 |
"Just returned from Teneriffe on 10.08.2010. 10 of us shared Villa No 10, 6 adults and 4 children and we booked with Spanishisles.com. This is the first time we have stayed in a private owned Villa and was really disappointed as the linen got changed once during our 2 week stay and the apartment was never cleaned but was told it was a self catering Villa and not a Hotel but it was half the price of the hotel but I don't expect to come away and clean up. There are 3 floors to this villa, the top floor was the best room to include en-suite the middle floor has 3 rooms and bathroom, Could do with modernising as very old fashioned. Ground floor includes a small bathroom with shower head as you enter the front door to your right, I did contact the maintanence guy to advise him that the shower pipe was leaking and was told he would replace it and never did. If you are looking to go into a private villa/apartment, be expected to clean and wash, then I will book again. we had to be out of the Villa for 11am and was not being picked up until 17.25pm, I went to reception to ask if they could store my toddlers milk in a fridge to keep it fresh until we left the complex, and the reception was very helpful, We met some really nice people on the complex. The pool area was really nice, I would say the complex is not spectacular but you get free sunbed which is new to us, Location is perfect and breakfast at the Rovers Return was excellent, the ownwer is called Kade just like my little toddler and for this reason he really did make a special effort with us and my little boy whenever we visited which I thought was really sweet. All staff very friendly. Be prepared to be hassled constantly by people trying to sell fake sunglasses/bracelet's and fake watches, they were harmless though and just trying to earn a living. We really did enjoy the holiday."
HoldenAug 2010
"We arrived at the Compostela in the evening, we had booked the villa for my husband and I and our five children ages 20, 18, 16, 14 and 11. The villa was basic but had everything we needed and was clean. The beautiful beach is literally two minutes walk away and there are plenty of bars and restaurants to suit all tastes and pockets. This complex is ideal for families with teenage children, our kids made lots of friends and loved the place. The pool and sun terrace was clean. The maids who were always pleasant came every other day and cleaned the apartments thoroughly. There was 1 cockroache on the ground floor outside the complex, but not in the villa. This was fantastic value for money. We've booked to go again next year."
LevinMar 2015
4 Bedroom Villa (Ref: 12)
Hi Paul Just a quick note to say thank you very much, we had a fantastic time away. The villa and Compostela Beach complex were ideal for a very relaxing time. The kids were perfectly aged for the pool onsite and the beach on our doorstep was a winner! Villa 10 was clean and comfortable - a home away from home, and we liked the end of terrace location. John and Hazel were so welcoming and allowed us to store our suitcases on arrival as we were early. I am happy to put a review onto Tripadvisor if that will assist as i think i would have found it helpful to have seen some positive reviews specifically about Spanish Isles and the Villas. Safe to say we will be in touch to book with you anyway for our next visit to Tenerife. Thanks again for your help. Kind regards Tembi
Feb 2015