Compostela Beach, 1 Bedroom Apartment (Ref 34)
34
Playa de Las Americas, Spain
Description
This 1 Bedroom Apartment (Ref: 34) in the Compostela Beach, This Apartment has a Pool View, South facing in Block 4, Ground Floor all on 1 Level, This 1 Bedroom Apartment in the Compostela Beach Complex, can sleep up to 4 Persons (2+2 pers) (Price Quoted is for 2 Persons, for the extra person upto 4 is £5 extra per Week). You pay 20% on Booking and you Pay the Balance 8 weeks before departure. The Apartment has One bedroom with a Floor to Ceiling Cupboards and Twin Beds which can be pushed together to make a Double The Apartment has a door leading to a Terrace with views over the Pool. Important with 1 Bedroom Apt, If you are interested in this Apartment (Ref 34), PLEASE WAIT after booking this Apartment for a Conformation as this Apartment is also with another Company and we got to make sure we are not Double Booking the Apartment first. We will confirm very quickly.
This Apartment 40A (Ref: 34) is in Block 4, Ground Floor (Street Level) . The Apartment a Terrace and has Pool Views and south Facing. Sleeps 2 +2 pax. (Price Quoted is for 2 Persons, for the extra person upto 4 is £5 extra per Week). You pay 20% on Booking and you Pay the Balance in 8 weeks before departure.
A large Lounge with a Sofa Bed also with a TV, Radio, and a Patio Door leading to a Terrace with a Patio Table and Chairs.
The Bedroom has Twin Beds.
A Fully Equipped Kitchenette. Bathroom with Bath with Shower and a Washing Machine.
The Apartment also has a Safe.
To See the Price or/and Book this Apartment, Please go to the Top right Hand side of this Page and input your Dates, Persons and this will bring up the ''Price'' If you are happy with this Booking and wish to proceed then Click on ''BOOK'' and follow the Booking Page. Please put ''Pay Later'' when you get the the Payment Page. We will send you a Payment Link after we get conformation. Over 95% of Booking are OK as the Calendars are Normally Fully upto to the Day.
'' On Booking this Apartment'', We are one of 2 Agents who are able to Book This Apartment so the Calender may be not 100% Correct. Please Book and WAIT for the Booking Conformation AND the Email from US saying its Now Confirmed, before Booking your Flights. We do get Full Conformation quickly.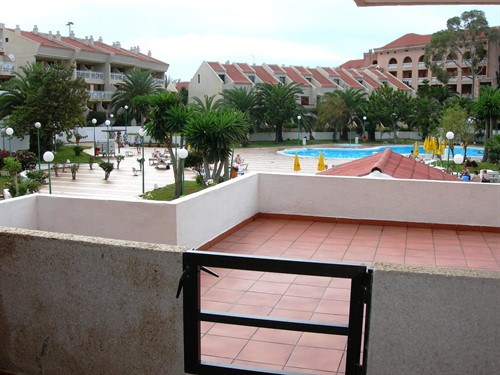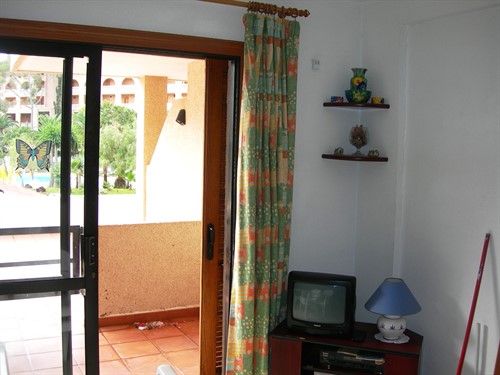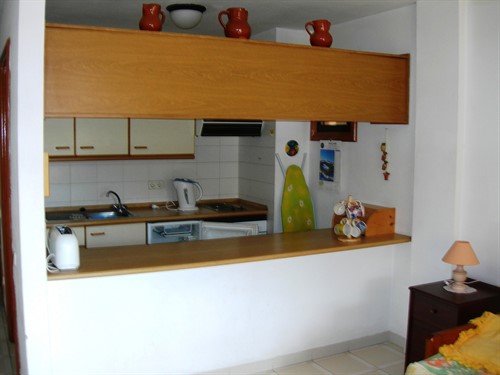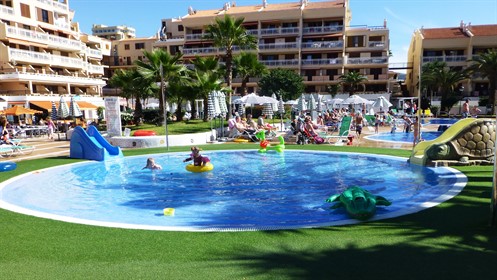 Read more about Compostela Beach, 1 Bedroom Apt.
Amenities
Property Type:
1 Bedroom Apt.
Party Size:
Up to

4 (2+2)
Amenities:
Complex on the Sea Front, Pool View, PAYG Complex Wi-Fi, Safe, DVD Player, Onsite Launderette
Swimming Pool:
Communal
Main Pool
Childs Pool
Heated
Fresh Water Pool
Distances:
Walking Distance to Beach
Walking Distance to Bars/Restaurants
Walking Distance to Supermarket
Walking Distance to Centre Los Cristianos
Walking Distance to Centre Las Americas
Short Drive to Las Americas Golf Course
15 min Drive to Airport
Suitability:
Children Welcome
Elderly Friendly Properties
Ideal for Wheelchair access
Nearest Airport:
Tenerife South
Activities:
Beach
Cycling
Watersports
Places of Interest
Town Centre
Diving Snorkelling
Waterpark
Zoo
Surfing
Complex Facilities:
Fresh Water Pool
Heated Pool
Supermarket
Resturant
Bar
Lift
Children's Playground
Gym Facilities
On Site Entertainment
Free Sunbeds around Pool
Complex on the Golden Mile
Pricing
| From | To | Week (£) | Occupation |
| --- | --- | --- | --- |
| 02 Jan 2020 | 24 Dec 2020 | 425 | |
| 25 Dec 2020 | 01 Jan 2021 | 600 | |
| 02 Jan 2021 | 24 Dec 2021 | 435 | |
Rental & Booking Information
Towels are changed weekly
Bed linen changed weekly
Wireless internet can be brought at the Reception.
Availability
Booked
Provisional
Available
Reviews
Hi Paul Just back from a great holiday in Tenerife in Compostela Beach was all we hoped for, lovely sunny balcony with smashing sea views & well equipped . Very pleased to find it has a security box , very reassuring . Thank you for all the arrangements & hope to be able to book again. Cheers Barry
brown   Dec 2014
Recently Viewed