Compostela Beach, 2 Bedroom Apt (Ref 6)
Playa de Las Americas, Spain
Party Size:
Up to 5 (4+1)
Swimming Pool:
Communal, Main Pool, Childs Pool, Heated, Fresh Water Pool
Theme:
Couple, Family, Beach, Good Nightlife, Watersports, Stag / Hens / Groups, Town, Good Family Evening Life
Nearest Airport:
Tenerife South
Description
This 2 Bedroom Apartment in the Compostela Beach Complex, Sleep up to upto 6 Persons, (4 + 2 Pers) It has 2 Bedrooms with Floor to Ceiling Cupboards & Ceiling Fans, Bedroom 1 has a door leading to a Balcony, The Lounge Diner has a Flat Screen TV with (English Speaking Channels Etc). Lounge also has a Double Sofa (Which is also a Double Sofa Bed), Also wicker chairs and doors which leads out to a Double Balcony. This large Double Balcony has a Full View of the Pool and has the Sun on it from Mid Day to sunset. This 2 Bedroom Apartment has a modern kitchenette with all necessary requirements...................... If you want to book this Apartment, please complete the Booking but please wait for Conformation before Booking Flights.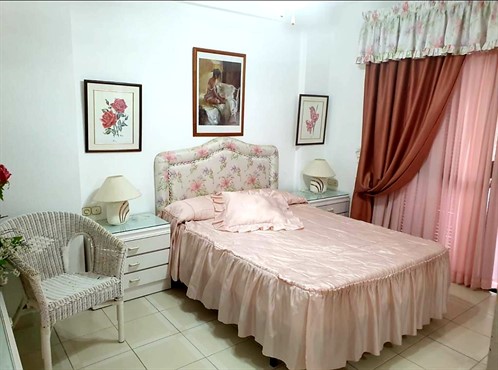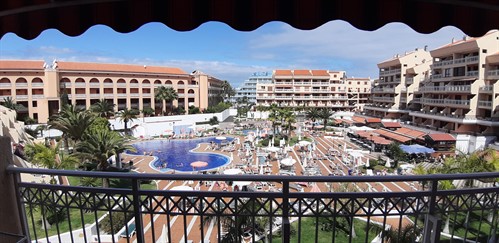 This beautiful 2 Bedroom Apartment in the Compostela Beach Complex, Sleep up to upto 6 Persons, (4 + 2 Pers) It has 2 Bedrooms with Floor to Ceiling Cupboards & Ceiling Fans, Bedroom 1 has a Double Bed and has a door leading to the Balcony, Bedroom 2 has 2 Single Beds. The Lounge Diner has a Flat Screen TV with (English Speaking Channels Etc BBC and ITV). Lounge also has a Double Sofa which converts into a Double Sofa Bed, Also 3 wicker chairs and 2 Bar Stools and large Patio doors which leads out to a Double Balcony. This large Double Balcony has a Full View of the Pool and has the Sun on it from approx Mid Day to Sunset. The Balconey has Balcony Funishings. This 2 Bedroom Apartment has a modern kitchenette with all necessary requirements, i.e. iron, Large refrigerator/freezer, 4 point Hob and oven, microwave etc. The Bathroom has a Bath. There is a Washing Machine in the Bathroom. The Apartment has a Safe.
To See the Price or/and Book this Apartment, Please go to the Top right Hand side of this Page and input your Dates, Persons and this will bring up the ''Price'' If you are happy with this Booking and wish to proceed then Click on ''BOOK'' and follow the Booking Page.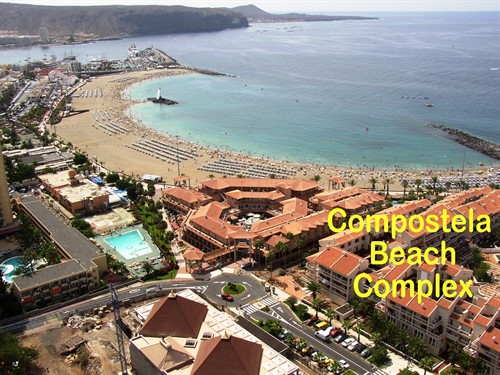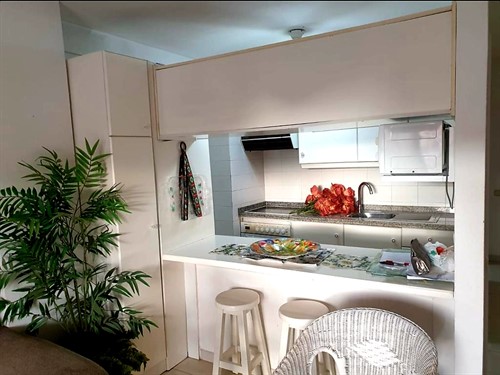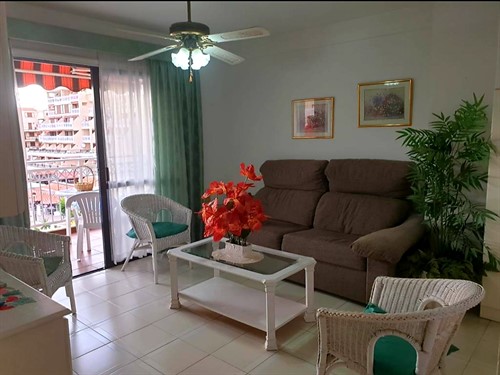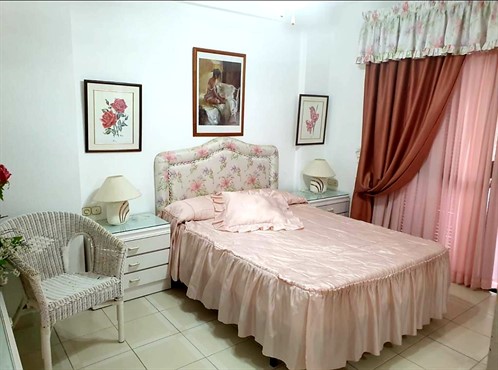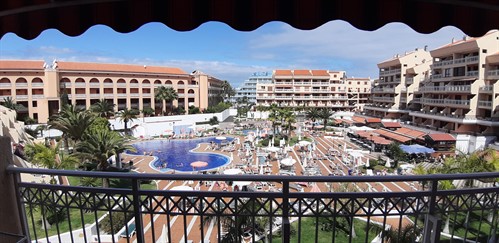 Read more about Compostela Beach, 2 Bedroom Apt.
Hide
Amenities
Property Type

2 Bedroom Apt.

Bedrooms

2

Bathrooms

1

Party Size

1

3

4

5

2

3 (2+1)

4 (2+2)

5 (4+1)

Floor level

2nd floor

Amenities

Complex on the Sea Front

Lift

Safe

Satellite TV

Onsite Launderette

Pool table

Pool View

Washing Machine

Stereo System

DVD Player

Table Tennis

Swimming Pool

Communal

Childs Pool

Fresh Water Pool

Main Pool

Heated

Distances

Walking Distance to Beach

Walking Distance to Supermarket

Walking Distance to Centre Las Americas

15 min Drive to Airport

Walking Distance to Bars/Restaurants

Walking Distance to Centre Los Cristianos

Short Drive to Las Americas Golf Course

Suitability

Children Welcome

Elderly Friendly Properties

Pets Welcome

Ideal for Wheelchair access

Nearest Airport

Tenerife South

Activities

Beach

Places of Interest

Golf

Hiking/Walking/Nature Trails

Zoo

Watersports

Town Centre

Diving Snorkelling

Waterpark

Complex Facilities

Fresh Water Pool

Supermarket

Bar

Children's Playground

Free Sunbeds around Pool

Heated Pool

Resturant

Lift

On Site Entertainment

Complex on the Golden Mile
Pricing
| From | Week (£) | Occupation |
| --- | --- | --- |
| 03 Jan 2023 | 700 | |
| 23 Dec 2023 | 850 | |
| 04 Jan 2024 | 700 | |
Rental & Booking Information
Towels are changed weekly
Bed linen changed weekly
Wireless internet can be bought out the Complex Reception.
MUST BE A TWO WEEK BOOKING OVER THE CHRISTMAS WEEKS.
Availability
Unavailable
Changeover
Short Breaks
Discount
Location
Local Amenities Nearby
Reviews
2 Bedroom Apt in Compostela Beach
We stayed for 11 nights with a 6, 4 and 1 year old. Lovely large apartment with a sea view from balcony. Lucky with weather, mostly 26-28 and just one day of cloud and a little rain. Little bit of a pain that we had to walk to other side of the building to get down the ramp to the pool/bar with the buggy, but we got used to it and would leave the buggy by pool when popping back for lunch. Tried all inclusive for 3 days (min 3 days, 40e pp but kids under 12 free), glad we did it for 3 days but would not do it longer, food was a little cold and so many different restaurants nearby that was the main enjoyment of the evening. Evening entertainment at hotel for kids was sweet, could have done with a smaller break between kids disco and main entertainment, maybe something more for the kids inbetween rather than just 20 minute disco. But Ziggy the evening entertainer was lovely and the children really enjoyed party dances, especially our 1 year old and she made a real effort to include him bless! And bingo was fun and we got lucky a few times! The hotel is predominantly Scandinavian guests and the kids club is also run by Scandinavian reps. One of the kids club reps is outstanding at her job, a huge thank you to Emelie who is amazing with the children and really made an effort knowing ours were the only English children there. She was so much fun to be around and very engaging with all the planned activities. She even spent her break time playing cards with them one day (their new favourite holiday game!) which they will treasure forever. We also did Aqualand water park which was perfect for our children's ages and the dolphin show was truly amazing and all included in the price - you can get a free bus from a nearby hotel just 15min journey (ask at reception), try and pick up Aqualand vouchers on way in at the airport if you remember! Overall an enjoyable holiday and we would return.
  Aug 2019
Lovely complex. Brilliant location. Our balcony looked directly onto pool. 5 minute if that walk to beach. Bars all around. Entertainment there was none at hotel nearby around the corner there was plenty! Would definitely stay again - in fact looking to book another holiday for this apartment again now.
jackson   Oct 2016
The apartment is clean and tidy but don't have air conditioning, but the Ceiling fans really helped, You still get all your plates, cutlery, glasses etc, plus a cooker and fridge. The agents came around to change sheets and towels. Plenty of sunbeds if you get up before 10am, but if you needed an umbrella you might need to get down there a bit earlier. The pool was lovely and clean and great to jump into after you had built up a sweat in the sun! There were quite a few families there and young people, but we were only disturbed on a couple of nights. There is a bar and shop where you can buy your cocktails or a nice cool icecream. You get given a card to enter the complex on one of the side gates, and the beach is about a 2 minute walk so the complex is ideally situated. There are a couple of lovely bars with English food just outside the complex, The Rovers Return and the Live Sports Bar were the ones we used and the staff were very friendly and the views of the beach were great as you were eating your tea! I would definately go back again, but BEWARE, do not go on the boat trips if you suffer from the slightest motion sickness, a 2 hour trip to see the dolphins and whales, turned into the worst 2 hours of my life (put it this way, I saw my cornflakes over the side of the boat the second time around!!! lol)"
Shaw   Aug 2016
Firstly, the location of this Complex is excellent. A stones throw away from a variety of different restaurants, bars, designer and local shops as well as the beach and the bus stop for Siam Park (a MUST visit!!!!!!) The Complex itself is bigger than expected from the photos. The pool was both warm and large but as other reviews claim, lilo's are not allowed (although rings and small balls are) and you have to claim your sunbed early (around 8am) in order to secure one (or again around 4ish). There's also a pool and table tennis table as well as kids club just beside the pool. Our room was very clean. The layout was a living room (including a sofa bed) The TV (with English channels) and balcony and a large bedroom with plenty of wardrobe space (including a safe) as well as the toilet/bathroom. I wouldn't recommend staying here all inclusive - not because the food was bad (as we didn't try it) but because there are plenty of restaurants around and at a cheap rate. For example, breakfast was no more than 4 euro including a drink (Buzz Bar). Overall, we had a fantastic time in Tenerife and would definitely go back and stay here again. For a good meal - Corinto (on the beach and also has free wifi), Scampi's (just by the beach) and Buzz Bar (next door to Scampi's). Of course, the Hard Rock Cafe too! (to the left of the hotel) Cheap cigarettes & perfume - past the hard rock cafe on the left on the corner. £16 for 200 Mayfair! Supermarket/shops - cheap supermarket to the left of the hotel and then on the right besides mini golf and on the other side of the road works as you leave the hotel (which is nowhere near as annoying as people put on here) to the right is the cheapest Zara ever (heaven). SIAM PARK!!!! AMAZING DAY OUT!!!!!!!!! And the food there is not too expensive at approx. 25 euro for food and drink maximum.
Mrs Parly   Sep 2015
Review Compostela Beach, 2 Bedroom Apt (Ref: 6).
Evening, We have just returned from staying in Compostela Beach Family Gardens 2 Bedroom Apartment room and just wanted to say how lovely it was. The apartment was great and in good order very comfortable and will definitely look to book again! Lisa.
Lisa   Jul 2015
Review Compostela Beach, 2 Bedroom Apt (Ref: 6).
We arrived at Compostela Beach apartments and like the Key Box idea. This two bedroom apartment which over looked the lovely pool with a good view of the sea. The apartment was very clean and tidy. The apartments have very good facilities and are situated in an excellent location. The front of our apartment faced out onto pool and the Sun was on this most of the Day. (Our Agents) were always very helpful and we are already looking forward to our next stay at the Compostela Beech.
Mrs Fosse   Jan 2015
"I booked my trip with Spanish Isles Holidays and was very happy with our Apt.The whole complex is great and very close to the beach.My whole family had a great time, Carlos in the bar is good with the kids, the Eagle show was fun and the food was great. As an ex resident of the island finding a complex that fits your expectations is hard but I have found the right one.We will be back next year and are bringing friends......"
Thank You   Oct 2013